Sorry, for a very lack of updates lately.. I've been busy with everything since i will going to Melbourne in
15 days... Oh, time flies so fast, i don't even realize. 
There's still many things i want to do here :) But for now, i should concentrate on packing and finish everything like put off my braces, and visa (yeah, i haven't got it!). You know how much these things disturb me every night?
This are 3 suitcases that i will bring.
one is large size, and 2 medium size.
Btw, this is what i got from my boyfriend. A Rotelli bag, because i need a big bag to uni hehe.

What i bought from Endorse, 2 weeks ago..

A jacket, yup in purple!
And this is what i got from my mom, my facial set =)

Oh ya, last weekend, i watched Cin(T)a and it was a very meaningful movie!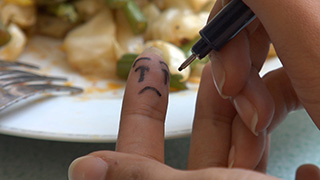 Eventhough the actress (i think) is not bring the mood of this movie in such a good way, but the movie itself makes me think of some new hmm opinion or idea. You see their tagline, God is a director? They even said that God is also an architect. I also love the way their express love and see the second picture? They like to express their feelings in a finger. Unique huh? 
So, it's a triangle love kindda movie. Between
You, Your Couple, and God.
When something like this happened in your life, which one will you choose? what will you do?
Oh must watched movie! 
xoxo